Hello PTZOptics Followers!
So we have been asked about extending power for a PTZOptics camera over a network (Cat 5) cable. This is popular in the Vaddio camera line and we wanted to address the solution we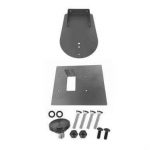 have come up with in junction with Sound Control Technologies. Sound Control Technologies has a product called the RemoteCam4 which can provide power, control and video over just one Cat5 cable up to 300′. When you compare this with Vaddio solutions (which can only go up to 100′) you have a more powerful and affordable solution for providing power to cameras remotely over a network cable (not exactly PoE but close enough). It's not exactly PoE which would allow a network switch to power the cameras. This solution requires power only at the receiving end as you can see in the picture below. The MSRP for the Sound Control Technologies RemoteCam4 is roughly $1,699. You can also order the unit with a wall mount that fits the PTZOptics cameras and the receiver unit together pictured to the right.
Can you extend USB 3.0 over Cat5 as well?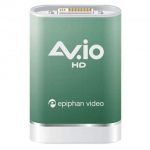 The answer is no, there are no products on the market that can extend USB 3.0 over Cat5 currently, but we do have a nice solution that works great! The Sound Control Technologies RemoteCam4 provides a HDMI output over Cat5 to the receiver. Once you have HDMI you can convert it to USB 3.0 with near-zero latency using a Epiphan AV.IO. If you have never used a Epiphan AV.IO than you have a great surprise waiting for you to discover. This affordable little device costs only $349 and it's UVC meaning there are no drivers required for use. The Epiphan AV.IO provides integration with the industries top web conferencing software such as GoToMeeting, WebEX and Skype for Business. If your software is looking for a USB webcam the Epiphan AV.IO will be available in virtually any resolution you need up to 1920x1080p 60 fps.
Conclusion
This has been a successful way to provide power, control and video for our customers over just a single network cable. If you can run (2) two Cat5 network cables you can also connect the PTZOptics cameras for IP streaming and IP Control. This adds another layout of functionality for live streaming (both RTSP and RTMP plus unicast/multicast) and camera control. Not having to worry about installing power for your camera can save a lot of time and money hiring an electrician. If you already have a duplex outlet in the ceiling you can simply run a USB 3.0 active USB extension for video and a Cat-5 cable for control (Active USB extensions require power at the camera end). But for those out their looking for cleanest, simplest installation this set up is ideal!
Categories: Epiphan Systems, Power Over Ethernet, Sound Control Technologies