Hello PTZOptics Users!
Our open source control software has been downloaded and updated by 100's of users since it's release in the beginning of 2015! We thought it would be nice to outline the basic of PTZOptics open source control software and the differences between the built in web interface.
Before we start you may want to brush up on your HTML & JavaScript knowledge. It will also help to have a basic understanding of networking as this software will interact with the camera over your network using a static IP address.
What is the difference between the open source code and the built in web interface?
The built in web interface is what you will see when you type in the cameras IP address directly. These controls are built in to every camera and they include the following functionality:
Pan Tilt & Zoom Controls
Pan Speed, Tilt Speed, Zoom Speed and Focus Speed
The ability to Set and Call presets
The ability to set your RTSP & RTMP streaming credentials
Change streaming video resolution, frame rates and bit rates
Adjust camera brightness, saturation, contrast, sharpness, hue and distortion
Format your audio in settings for type, sample rate and bit rate
Configure your user name and password
Configure your device information and IP address
The open source control software is considerably stripped down version of the built in camera IP interface. But you should think of this as a open canvas. Instead of having the camera serve up control you can host this HTML/JavaScript directly from any computer on your network. Developers have built this interface into solutions that provide 4+ camera control in one web browser tab all over the network.
What the open source code is great for!
Customizing your interface to fit your personal needs
Gaining control of multiple IP cameras from one interface
Simplifying interface for your customized situation
Not sure you want to dig into the open source?
No problem! We have 3 super powerful control software options below.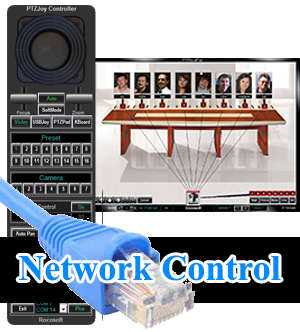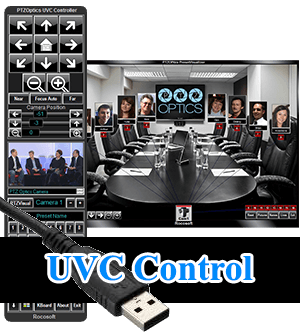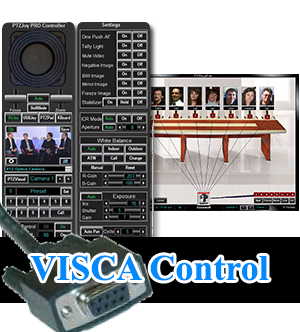 Network Control
Easily connect to up to 8 cameras on your internal network
No need to be physically connected to your cameras
Extend control outside your network
Use preset visualizer to layout your presets
Toggle between static IP addresses on your network
Easily connect to your camera via one USB cable
Control & video over one cable (12X-USB & 20XUSB)
Extend control outside your network
Use preset visualizer to layout your presets
Host remote control to any web browser
VISCA Control
Connect to your camera via RS-232 to USB (conversion cable required)
Enjoy the most advanced camera control with SONY VISCA
Extend control outside your network
Use preset visualizer to layout your presets
Host remote control to any web browser
Categories: Uncategorized